TORREVIEJA has released the Spring cultural programme showing what is on offer throughout April, May and June.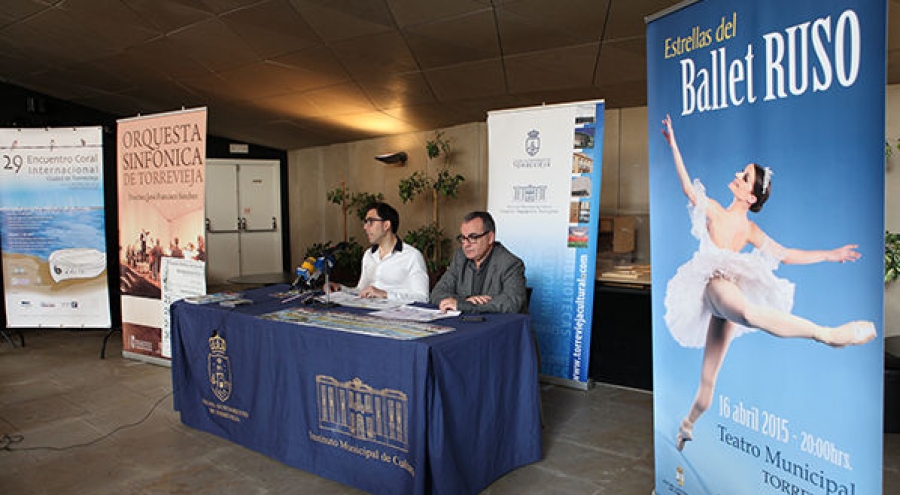 Councillor for Culture, Luis Maria Pizana, was accompanied by the coordinator of Culture, Manuel Esteban Moreno, as they presented the programme which has a total of 224 acts and an overall budget of €58,000.
Among the scheduled activities in Torrevieja for the public there are 65 concerts, 18 workshops of various kinds, 17 plays, ballet performances, exhibitions, acts for children and film screenings.
Pizana explained how 55 local authorities have collaborated with the town hall for this agenda, including the Municipal Institute of Culture "Joaquin Chapaprieta", which has published a total of 15,000 copies of the complete cultural agenda with can be collected from the tourist information offices and will be sent to those registered on the database.
Girl group Sweet California kicked of the entertainment this weekend with a concert at the Eras se la Sal. On April 10th and 11th, the Municipal Theatre will host the 29th International Coral Contest "City of Torrevieja", in which the Youth Choir and Chorale "Francisco Vallejos", the Choir of the University of Murcia, the Chamber Choir of Sevilla and others will participate.
On April 16th, the Municipal Theatre will host the national premiere of "Stars of Russian Ballet", under the artistic direction of Yuri Vyskubenko, and will feature the leading figures of the Bolshoi Theatre , Stanislavski and Kremlin.
On Saturday, May 2nd, at the International Music Hall, the Murcia Regional Symphony Orchestra and the Ricardo Lafuente Municipal Choir will perform Beethoven's 9th Symphony.
On Sunday May 3rd, the Municipal Theatre will host a tribute to Eric Clapton, and Saturday May 16th, the theatre will also host a tribute concert to Dire Straits.
Not forgetting the May Fair falls within this agenda, taking place in Torrevieja from Wednesday May 6th to Sunday May 10th, with an appearance by Spanish singing duo Camela on May 8th.
On Saturday May 23rd, renowned Spanish singer David Bustamante will perform at the Municipal Theatre.
In June there will be a short film festival and the return of the comedy show Gin and Tony, providing a varied combination of Spanish humour.
The agenda is out now and can also be downloaded from the website, www.torreviejacultural.com, giving full details of the spring agenda.