Spain welcomed in excess of 60.6 million international tourists in 2013, recording a 5.6% year on year increase and the strongest inbound tourism statistics to Spain since the launch of the FRONTUR surveys.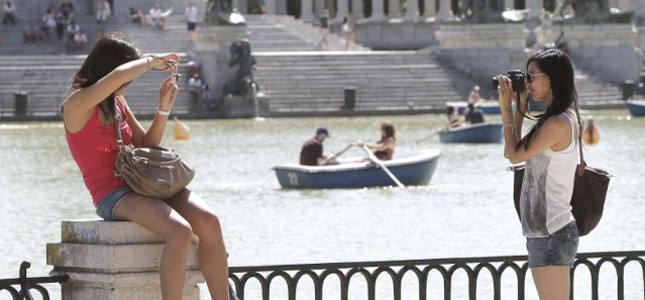 In turn, spend by foreign visitors in Spain also reached record highs, with a total in excess of 59 billion euros in 2013, up 9.6% year on year. The increased spend was a result of both a higher number of tourists and a larger spend per person, with the average spend per trip increasing to €976 (+3.7%) and the average daily spend reaching €109 (+3.3%). UK, French and Nordic visitors were most responsible for the increase in spend, with Catalonia and the Canary Islands benefitting the most from the increased expenditure. The UK accounted for 20.3% of the total tourism spend, generating in excess of 12 billion euros, up 7.8% year on year.
The UK continues to be the strongest inbound tourism market to Spain, with more than 14.3 million UK visitors in 2013 representing a 23.6% market share and a 5.2% year on year increase. Germany is the second strongest inbound tourism market to Spain capturing 16.2% (+5.8%), followed by France, which represented a 15.7% share (+6.9%).
The increase in visitor numbers to Spain exceeded the 5% level of global tourism growth according to the barometer published by the World Tourism Organisation (WTO). This growth was partly fuelled by the Russian tourism market to Spain, which saw a 31.6% year on year increase (capturing 2.6% of all international visitors). Norway and Sweden also saw huge growth in tourism to Spain with respective year on year increases of 21.4% and 21.9%, collectively capturing a 5.3% market share.
This growth remained strong right up to the end of the year, and in December 2013 Spain welcomed 3.1 million international tourists, representing a 16.3% increase compared to the previous year. The UK was the strongest inbound tourism market to Spain in December, with almost 623,000 UK tourists choosing to visit, up 20.2% compared to 2012. For this market, the Canary Islands was the most popular destination capturing a 46% market share, up 9.2% year on year. Catalonia and Madrid (both the city and the surroundings) also saw significant growth.
With regards to expenditure, it was a similar story in the month of December, with a total of almost 3.2 billion euros spent by foreign visitors (+15.8% yoy). For the UK alone, expenditure in December increased by 20.2% to €504 million, representing almost 16% of the total spend by foreign visitors.
Key destinations
During 2013, Catalonia was the most popular choice for international tourists, welcoming 15.5 million arrivals (+ 8% yoy) and a 25.7% share of the tourism market. The Balearics followed, registering 11.11 million tourists (+7.2%) and an 18.3% share.
The Canary Islands was the third most popular destination, receiving 10.6 million tourists (+4.9%) and a 17.5% share throughout 2013. For December alone, the Canaries was the most popular tourist destination, experiencing a growth of 13.2% year on year, primarily from the UK, German and Nordic countries.
Andalucia saw growth of 4.7% year on year, receiving 7.8 million tourists and capturing 13% of the total visits, while the region of Valencia experienced an 11.4% rise, receiving 5.9 million tourists and 9.8% of the total share.
Finally, Madrid city and surrounds experienced 19.8% growth in December, breaking the negative trend for decreasing visitor numbers experienced earlier in the year and reporting a total of 4.2 million visitors at the year end.
Other key statistics
Almost 81% of all arrivals to Spain in 2013 accessed the country by air, an increase of 5.6% year on year. In turn, visitors arriving by road also increased 7.3%.
Hotels continued to be the most popular accommodation option, chosen by over 39 million tourists (64.4% of the total visits), however, non-hotel accommodations saw an increase of 7% year on year and were chosen by 21.5 million tourists.
Over 42 million tourists chose to visit Spain without a package, a 6.8% increase year on year, while tourists visiting on a package deal increased by 2.9% to 18.2 million.