If you're coming to Spain any time between the end of January and the middle of February, you'll have the chance to witness an amazing natural phenomenon: the flowering of the almond trees in Majorca. At this time of year the island's Mediterranean landscape is awash with white blossom, making an enchanting picture which heralds the arrival of spring. It would be a sin to leave your camera at home.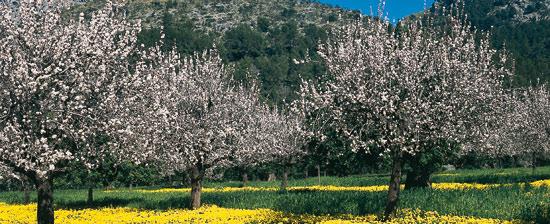 "Incredible", "fantastic", "fabulous"… These are just some of the expressions of wonder you'll hear from anyone who's travelled to Majorca to see the almond trees in flower. The mild winters of the Mediterranean are responsible for this unique natural spectacle which takes place every year in Spain. Between January and February, hundreds of thousands of almond trees in the Balearic Islands burst into flower, transforming fields and mountains into a fairytale landscape. The trees are clothed in myriad tones of white and pink, and for a few days this feast for the eyes becomes one of Majorca's most popular tourist attractions. Make a note in your diary, because you're bound to be captivated by the experience.
Although almond trees grow all over the island, there are two areas of particular interest. One is the mountains of the Sierra de Tramuntana and the central western area, especially Marratxí, Bunyola, Santa María, Sencelles, Lloseta and Selva. And the other is the districts of Manacor, Sant Llorenç and Son Servera, in the east of Majorca. There are several routes which allow you to enjoy this natural phenomenon either on foot or by bike. Renting a car is another good way of exploring these places.
You'll also find that almonds are not just a pretty sight. The Majorcan almond is famous for its distinctive characteristics and its sweet taste: try it by itself, toasted, or in one of the typical desserts of Majorcan gastronomy. You'll even find products made with almonds and almond blossom in shops and at perfume counters. So now you know, if you want, you can take away a lot more than just a beautiful souvenir photo.