This year the Medieval Market being held in the picturesque old town centre of La Vila Joyosa (or Villajoyosa), will have real craft people on the stalls.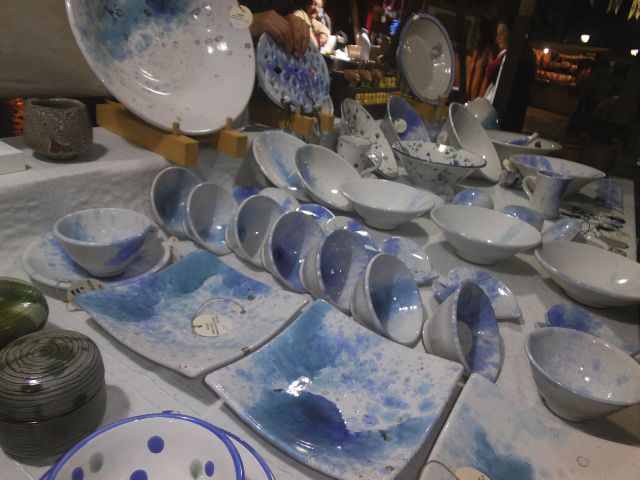 Men and women who really make what they sell, which makes a change from all those fancy dress markets with barrow boys in medieval costume selling stuff that you can get cheaper in almost any pound shop. Villajoyosa Town Hall has invited the regional craft association Amata to organise the event, and some 40 aficionados are expected to set up shop with a wide range of really interesting and original work.
A lively group of musicians plus a very talented juggler will guarantee a cheerful atmosphere.  There is, of course, the usual tavern and tea tent plus a merry-go-round and workshops for younger visitors.
Charro Escrig, the town councillor in charge of events like this, decided that this year this particular market would be something just a little different from most of the markets organised in so many places, where in fact little original craft work is to be seen.
She chose Amata because this craft association is one of the very few organisers who guarantee the authenticity of all that is sold in the market.  Only "Artesanía de Autor" is admitted, which means that whatever is displayed has to be made by the man or woman at the stall.  So you pay a little more than if you buy it in your local basar, but for that you get something special and you pay a lot less than if you bought something in an exclusive galery.
So the visitor gets a chance to buy directly from the person who made the object and can even have something specially made to order if it is not quite what is wanted, although sometimes delivery might have to be made after the fair is over.
All the stallholders bring their tools along and can often adapt the chosen item to suit your particular requirement, for example painting a special design or engraving a name on the chosen piece; Eloisa even makes 3D caricatures in plasticine (live or from a photograph; what a chance to get a special present for Mother's Day!)   Quite a few people will be working in their stall so that the visitor can see how much skill, patience and love goes into the making of one single object.
This is not just a market with 40 stalls – these are real people who have chosen this way of life.  Joan makes lovely wooden toys and puzzles (even portraits from a photograph), Mikel makes colourful shoes and sandals for kids and adults and José Luis creates lamps that look like giant insects.
Francisco's pottery is at the same time traditional and surprisingly modern, the bags made by Tony will last you a life time (take them with you, if you like), Juanjo recycles all sorts of materials and makes original jewelry from spoons or forks and Daniela paints beautifully on Spanish roof tiles.  Several stalls offer design jewelry in all sorts of material: macramé, silver, ceramics, silk and even dried flowers.
The younger visitors can play table games, join a workshop or have a go on the merry-go-round, while their elders can fortify themselves in the tavern, the "pulpería" (your chance to try tasty nuggets of octopus) or take a tea or try typical Arab food in the Jaima.
The slightly crazy musicians of Sol Redó enliven the market as does Ly, sometimes as a juggler, at others times walking around on stilts in a variety of fanciful costumes or amazing the crowd by tying herself into impossible knots while lying on a bed of very sharp nails.
The market opens on Friday the 1st of May at 4 pm.  On Saturday and Sunday the market stays open from 11 am till about 10 pm.  More information, also in English, on 639 979 678 and you can look at photos from other markets organised by Amata on www.amata.es.
Meanwhile, people living in the Jávea area who are looking for hand made gifts for Mother's Day and find Villajoyosa a bit out of the way, can still visit the weekly craft market, also organised by Amata, in Jávea – every Saturday (also on the 2nd of May!) from 10 till 2 in the Plaza Marina Alta, the square in front of the Post Ofiice near the Old Town.
A list of participants and products (daily updated) you can find at http://www.amata.es/Javeasemanal.html.