Having sold Spanish property for almost 60 years to over 4,000 clients, house builder Taylor Wimpey España must be doing something right. In fact 98%* of clients would buy from Taylor Wimpey España again and many do keep that promise.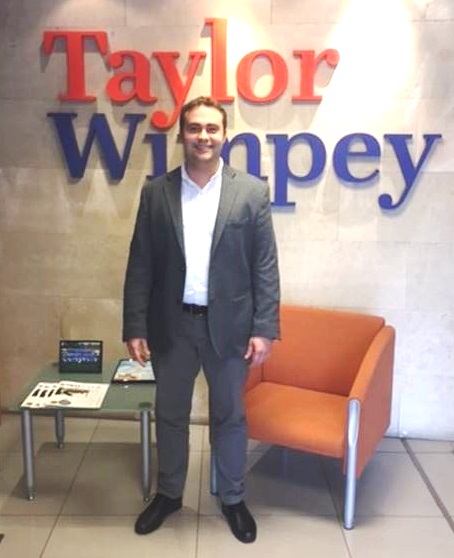 Putting customers first is what the established company believe is the key which is why Taylor Wimpey España operates a dedicated Customer Care department, headed up by Toni Valentin. We speak to him to find out more about his vital role within the team:
Welcome to the Taylor Wimpey España team! What is your role in the company?
My role in Taylor Wimpey España is Customer Care Manager.
What are your day-to-day duties and responsibilities?
Day to say I am responsible for organising, planning, managing and reviewing all Taylor Wimpey Espana's customer buying journey. Along with our Customer Care Team we handle the organisation of the legal aspects of buying a property, any questions or issues that customers may have along with motivating and supporting the Customer Care team.
You hold a strong background in hotels and hospitality both through your qualifications and career, what made you interested to explore the real estate sector?
Here in Spain, as we mainly build holiday or second homes, our customers are most tourists so in many ways, my role at Taylor Wimpey España has many aspects in common with my past roles within the hospitality sector. For that reason, this job keeps me in touch with the tourism sector whilst at the same time challenging me as our clients, buy purchasing homes, are staying for longer and in a different capacity than hotels.
What expertise are you bringing from your hotel background to Taylor Wimpey España?
Over the past few years, I have worked for a number of companies to gain experience and establish contact with as many people as possible. As part of my six-years in my Ibiza apprenticeship, I learned about quality and customer service, team management, online and offline reputation and from working for a hotel operator, I gained good experience in leading people and customer service.
My goal is now to take my years of hands on experience in tourism and customer service to not only maintain but improve the already high standards of client care at Taylor Wimpey España.
How would you say Mallorca compares to Ibiza in terms of the hospitality sector?
Both islands are similar in terms of their appeals although I would say that people who come to Mallorca are looking for calmer holidays than people who might Ibiza. The standards of accommodation and offering from both Mallorca and Ibiza are very similar and I would say that Mallorca is catching Ibiza up quickly in terms of new openings, especially at the higher end of the market.
Is there anything Mallorca can learn from Ibiza?
Over the last couple of decades, Ibiza has become a well-established destination and brand in its own right. It's become the "go to" destination for millennials, many of whom will go on to visit the island year after year. In my opinion, this is the target market that Mallorca should look to attract.
Customer satisfaction has always been a priority for Taylor Wimpey España, why do you feel this is so important to the company?
A good customer experience means that we can build and sell for the future and we must do the best every day to increase our customer's satisfaction. Taylor Wimpey España has been doing a very good job for the past 60 years and that's why the company works so well. It's our obligation it's to keep improving day by day in order to keep on working for at least 60 more years!
How does Taylor Wimpey España ensure it delivers the best customer service it can?
Here at Taylor Wimpey España, the team are always very well prepared and they work together to deliver results. We all have one goal in common – customer satisfaction which is why we undertake regular surveys to check our clients are happy – and 98%* are!
You are Mallorquin born and bred, what does it mean to you to be back working on Mallorca and for a Mallorquin based company such as Taylor Wimpey España?
It's always nice to be at home, my family certainly likes having me back and being able to work within the Customer Care team at Taylor Wimpey España made the choice to move back to Mallorca an easy decision.
What do you like to do in your spare time?
I enjoy learning about different cultures, travelling, listening to music, going to the cinema, spending time with family and friends, playing football and watching football matches.
For more information, please contact Taylor Wimpey España today on 08000 121 020 or visit http://taylorwimpeyspain.com for more information. If you reside outside of the UK you will need to call 00 34 971 706 972. 
(*) Data taken from Taylor Wimpey Espana's "Customer Satisfaction Index", a regular survey that asked to all clients after they have enjoyed their new home for a few months.